Services
Site Support Staffing
Our experienced research staff help study sites address the key pain points in trial execution:
Limited capacity and bandwidth
Need for additional staff capabilities
Insufficient access to medical specialists
Low patient enrollment and retention
Reach Your Enrollment Potential
With our experience conducting hundreds of research studies across numerous therapeutic areas, we have the ability to provide a wide range of specialized staff roles so that your research sites can enroll more participants for your studies.
Our clinical research professionals work alongside the site's research team under the PI's guidance, and a dedicated Site Support Relationship Manager ensures smooth integration of our staff into site operations.
Fully Customized and Scalable Staffing Services

Site Staff Augmentation
Sub-investigators (on-site, traveling, virtual)
Clinical research coordinators (on-site, traveling, virtual)
Patient educators (on-site, traveling, virtual)
Patient Resource Partners
Nurses
Pharmacists
Psychometric raters
Optometrists
Dieticians
…and many more specialized roles

Centralized Research Staff
Patient management
Remote data entry specialists
Central psychometric raters
Central sub-investigators
Audit readiness, preparation, and support

What
Research Sites

Are Saying

"Rebecca's professionalism, understanding and execution of study protocol, and ability to adapt to our site's protocols and needs have been outstanding. Care Access has not only made it possible for our site to run this protocol, but they've made it flow so easily."

Research Site in California
Deliver Exceptional Patient Experiences
Improve enrollment and retention by providing patients with personalized support throughout the trial journey. Our Patient Education and Patient Resource Partner programs can embed into any trial, and have proven to be especially impactful in cancer trials and trials with hard-to-reach patient populations.

Our Patient Educators:
Engage communities and healthcare organizations through education
Build trust through open and culturally-sensitive communication
Support trial enrollment at community-based screening events or traditional sites
Empower patients to make informed decisions
Offer the flexibility that patients need with traveling and virtual teams
Provide a tailored approach for each patient so they are well-informed and engaged throughout the study
Refer patients to Patient Resource Partner, as needed
Patient Resource Partner Program Pathway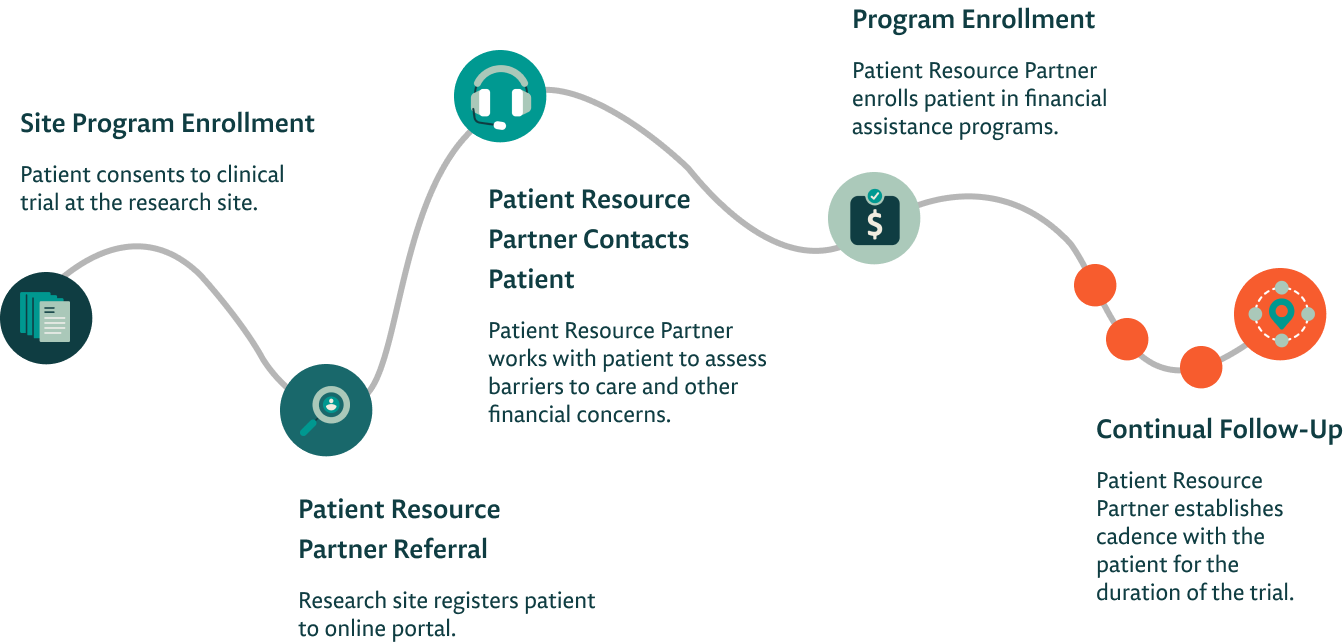 Our Patient Resource Partners:
Increase patient engagement and retention by reducing barriers to care
Conduct assessments of patients' non-medical needs, such as financial concerns, transportation, and childcare
Enroll patients in financial assistance programs
Enroll patients in government programs for daily living costs
Make the entire trial journey as easy as possible with ongoing guidance, reminders, and check-ins
Enable more diverse and representative populations to participate
What
Patients

Are Saying

"In a caring and personal way, you have helped find and apply for available financial assistance programs. With these organizations you have negotiated and advocated for me, helped me in their application processes, and expedited their approval cycles. As importantly, you have helped ensure that my participation in a clinical trial got going, and that it and my treatment are staying on track. You and your organization are a ray of sunshine in this gloomy episode!"

Oncology Clinical Trial Participant
---
"Without their help I couldn't have paid for my cancer meds. I would have lost everything including my life. My patient navigator, Peyton, does such a great job. She explains everything so well and keeps me informed of everything she finds for assistance. I am truly blessed to have her and her organization in my life."

Oncology Clinical Trial Participant
Our Staffing Capabilities Are Growing
We currently provide full staffing support in:
United States
Patient Educators are available in:
Brazil
Poland
Spain
United Kingdom
United States
Additional staffing support coming soon to:
Brazil
Canada
Poland
Spain
United Kingdom
We have the ability to expand our staffing services to additional countries to accommodate sponsor priorities.
We are ready to help
Contact us to learn more about how we can partner with your sites to help ensure the successful completion of your studies.