Oct 10, 2023
What is a Diverse Research Site?
It's not just about diversity of staff and participants – it's more.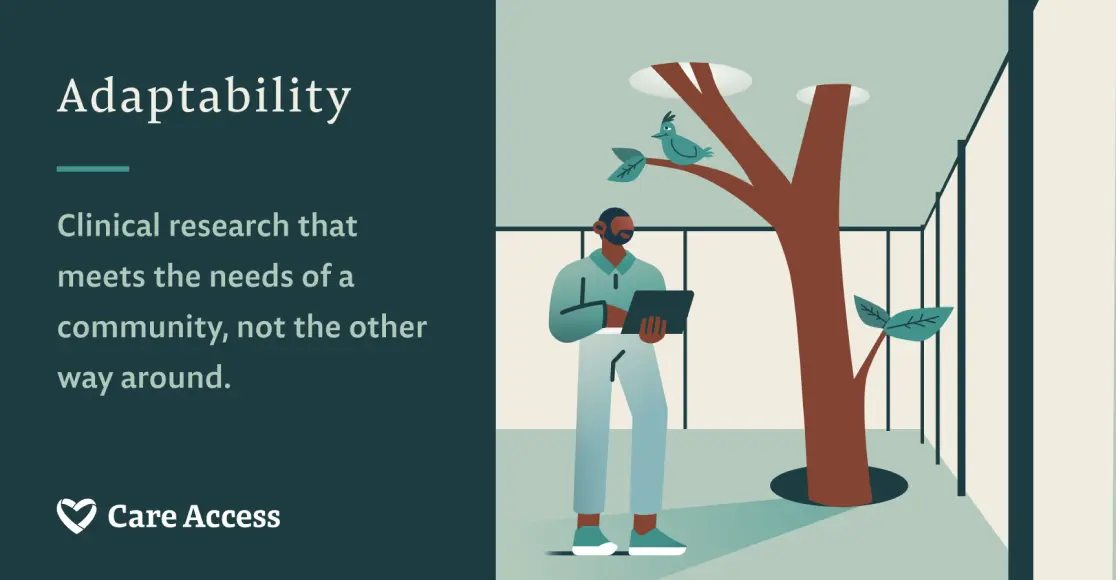 It's not just about diversity of staff and participants – but also diversity in how clinical research is woven into the fabric of local communities.
This highlights how crucial adaptability is for sponsors, CROs, and sites to find the most appropriate and effective ways of working. Not all sponsors and protocols allow for this flexibility, but we are getting there.
Take these new studies at Care Access sites for example:
• Novo Nordisk checking fatty livers in a quaint rural clinic. Learn More→
• Eli Lilly and Company screening Lp(a) next door to a Historically Black College and University (HBCU) community center. Learn More→
• Anthos Therapeutics detecting heart palpitations inside of a safety-net community hospital. Learn More→
• Novartis tracking strokes across continents. Learn More→
True diversity means understanding and serving communities with their unique cultures and customs. It's about mutual learning, adaptation, and ensuring research feels welcoming and familiar.
Together, we move towards a more inclusive future, one community at a time.
About Care Access
Care Access is a global research company helping to accelerate the arrival of new medicines. With a global network of over 150 research sites, Care Access supports research studies conducted by biopharmaceutical companies of all sizes, including 14 of the top 20 biopharma. In addition to its proven track record of globally top-enrolling sites, Care Access partners with new-to-research communities and establishes high-quality clinical trial infrastructure locally to achieve the common goal of improving health outcomes for generations to come. For research sponsors, Care Access offers three core services: (1) global network of research sites, (2) community screenings to expand a study's reach and (3) staffing support, on-demand physical space expansion, and training services for all research sites on a study.
To learn more about active studies at Care Access, or how Care Access helps sponsors achieve enrollment and representation goals, visit www.careaccess.com.
Contact
Joseph Oh - media@careaccess.com